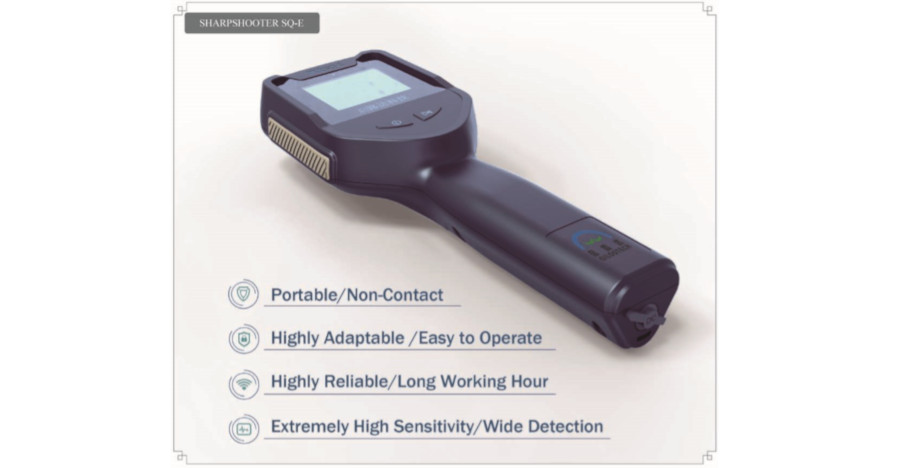 Sharpshooter SQ-E Portable Explosive Detector is a best-in-class extremely sensitive detector which detects a broad range of explosives. It is equally suitable for law enforcers as well as small to large organizations like airports, hotels, shopping malls, railway/bus stations etc.
Salient Features
Amplified Fluorescence Polymer Quenching Sensor Technology. Extremely High Sensitivity.
Wide Detection Range. Able to Detecl Nitroaromatics/Black Powder/Nitrates/Ammonium Nitrates/Peroxides/IED etc.
In compliance wilh Police Equipment Adaptability Standard. Approved by National lndustry Standards. Applicable for Onsite Detection in Tough Environment.
Handheld Portable. <570g in Weight. Operation Noise < 50Db.
Vary easy to use. No special training required.
Super Fast Response. LED indicator, Flickering Alarm.
Technical Specification


Basic Parameters
Sampling Method: Gas Sampling/Dipstick Sampling
Sensiiivity: TNT (1-10Fg)
Startup Time: < 3 Seconds
Response Time: 1-10 Seconds
Alarm: Flickering, Text, Remote, Humming (Default disabled. one button activate)
Display: 2.4″ Color LCD Display
Operation Mode: Handheld, Portable, Single Hand Operation
Power: Rechargeable batteries; 220Vac/50Hz
Battery Type: Rechargeable Lithium Battery
Battery Working Hours: >11 Hours
Anti Jamming: Electromagnetic Shield
Remote Communication: Bluetooth
Operation Features
Portability: <1000g including manual and sampling material
Portable Detector Weight: <570g
Product Size (LXWXH) 300x95x55(mm)
Calibration: Not Required
Easy Operation: Independent Operation afler 30min Training
Environment Humidity: < 95%
Environment Temperature: -20 ~ +50°C
Noise at Work: <50Db